Saturday, October 15, 2011
Thursday, October 13, 2011
Ma declar fan Teekanne Irish Cream! :)
Caut aroma asta de prin iarna, cand am baut in Mall-ul din Baia Mare un ceai Demmers cu aroma de caramel. Asta era aroma!
Am primit in cadoul de toamna de la Miki Roz o cutie de ceai Teekanne Irish Cream. Mersi mult de tot, Miki! M-ai nimerit cu ceaiul si cu restul! pe cutie zice in engleza si alte limbi, ca e ceai negru (90%) combinat cu aroma de Irish Cream (10%), de frisca si wiskey irlandez, in romana au tradus ca e aroma de caramel. asa ca a trebuit sa ma lamuresc si mi-am si facut o cana de ceai.
E supeeeeeeeeeeeeeeeeeeeeer!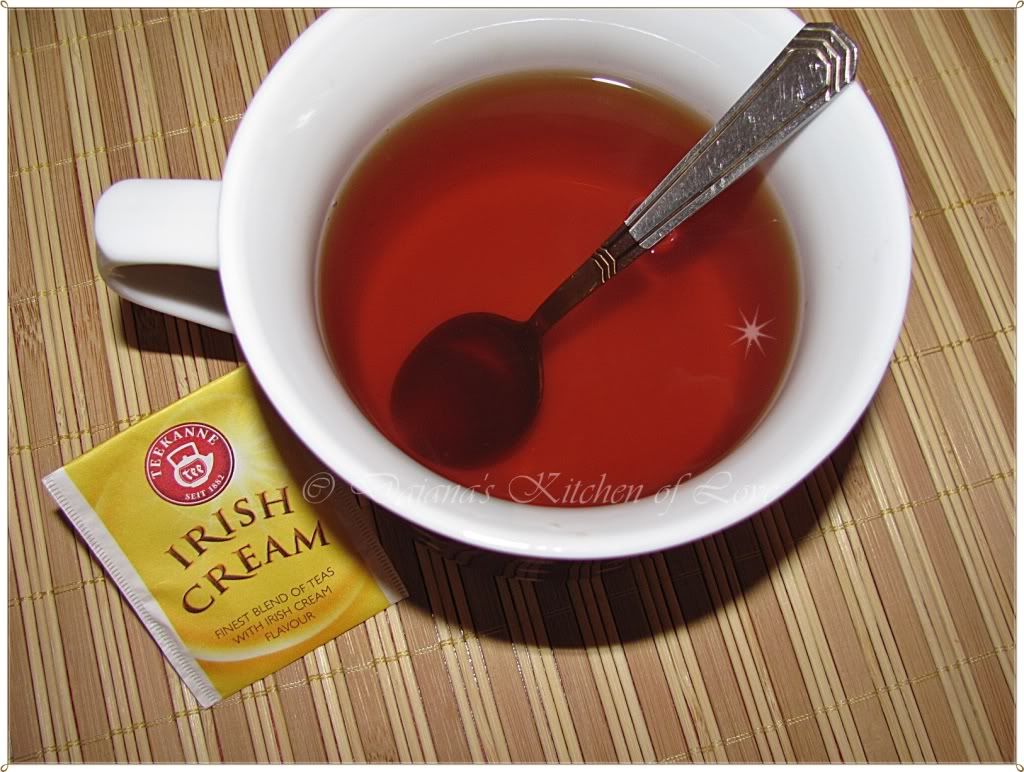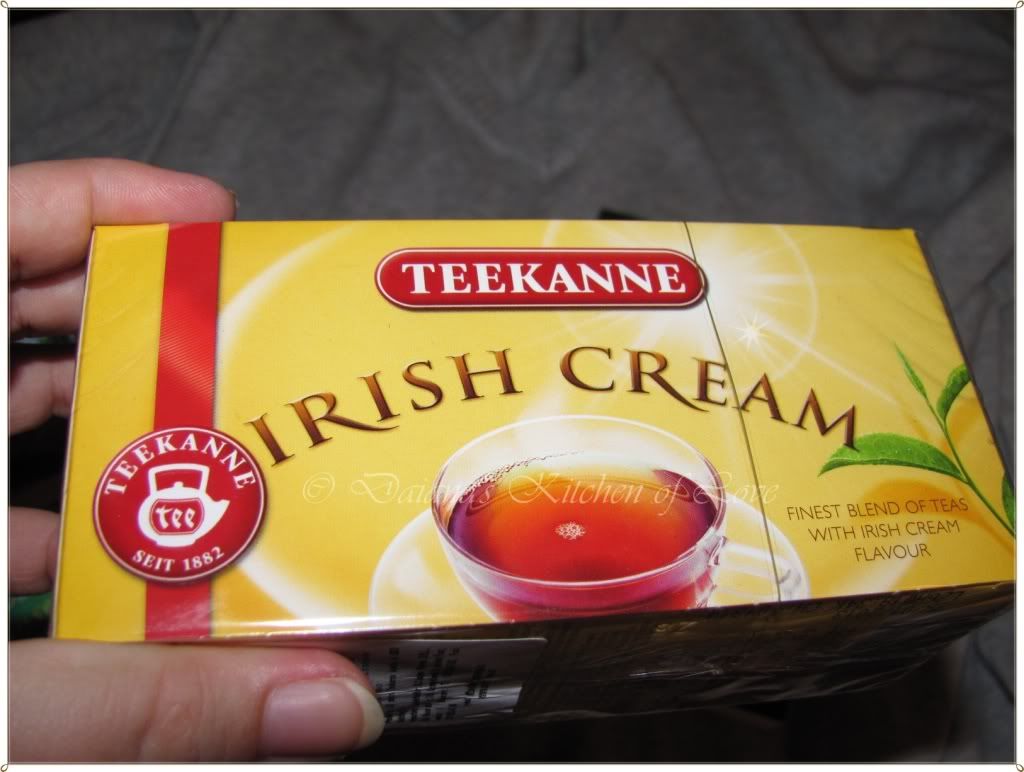 Ingrediente:
* 2 kg mere
* 2-4 linguri zahar
* 3 linguri faina
* 500 ml apa rece
* aprox. 3 linguri unt
(* optional: scortisoara)
Merele se curata si se taie cubulete mici sau feliute subtiri.
Se pun la fiert pe foc mic, cu capac, cu 2-4 linguri de zahar, in functie de cat de dulci sint merele, adaugand cam 500 ml de apa.
In loc de zahar se poate folosi indulcitor. Sau se poate scade sau elimina complet cantitatea de zahar, daca merele sint foarte dulci.
Cand s-au inmuiat se face o ingroseala din vreo 3 linguri de faina cu putina apa si se amesteca in merele inmuiate. Se amesteca (tinand pe foc) pana se omogenizeaza si se ingroasa sosul.
Apoi se adauga untul, cam 3 linguri si se amesteca energic sa se topeasca si sa se omogenizeze.
Se serveste ca desert sau langa felul doi.
Se poate servi alaturi de carne: pane, friptura, chiftele sau la bundas kenyer (paine in ou).
Pe vremea bunicii asa se manca la noi, felul doi cu salata sau cu sos de mere sau visine sau compoturi.
In Banat se obisnuieste sa se manance dulce langa mancare :)
Ingrediente:
* 1-2-3 dovlecei (dupa marime, preferinta sau disponibilitate)
* ardei gras (am pus 1 galben, 1 rosu)
* salam (de care vrei, cat ai sau cat vrei; io am pus ceva salam de vara, nu uscat)
* 1 ou intreg
* sare, piper si alte condimente
* 2-3 linguri faina
* ulei pt prajit
Dovleceii se curata de coaja si seminte si se dau pe razatoarea cu gauri mari. Se presara cu sare si se lasa deoparte.
Ardeii si salamul se toaca marunt.
Dupa vreo juma de ora dovleceii se storc bine de zeama.
Apoi se amesteca cu ardeii si salamul tocat, oul intreg, sare (daca mai e nevoie), piper si alte condimente la alegere si 2-3 linguri de faina. Faina se mai poate adauga cat sa se lege putin compozitia (sa nu curga).
Se iau cu ligura si se prajesc chiftelele (gramajoarele) in ulei incins.
Se pot servi ca garnitura langa alt preparat din carne sau alaturi de un sos sau salata sau cu cartofi prajiti, dupa pofta si imaginatie. :D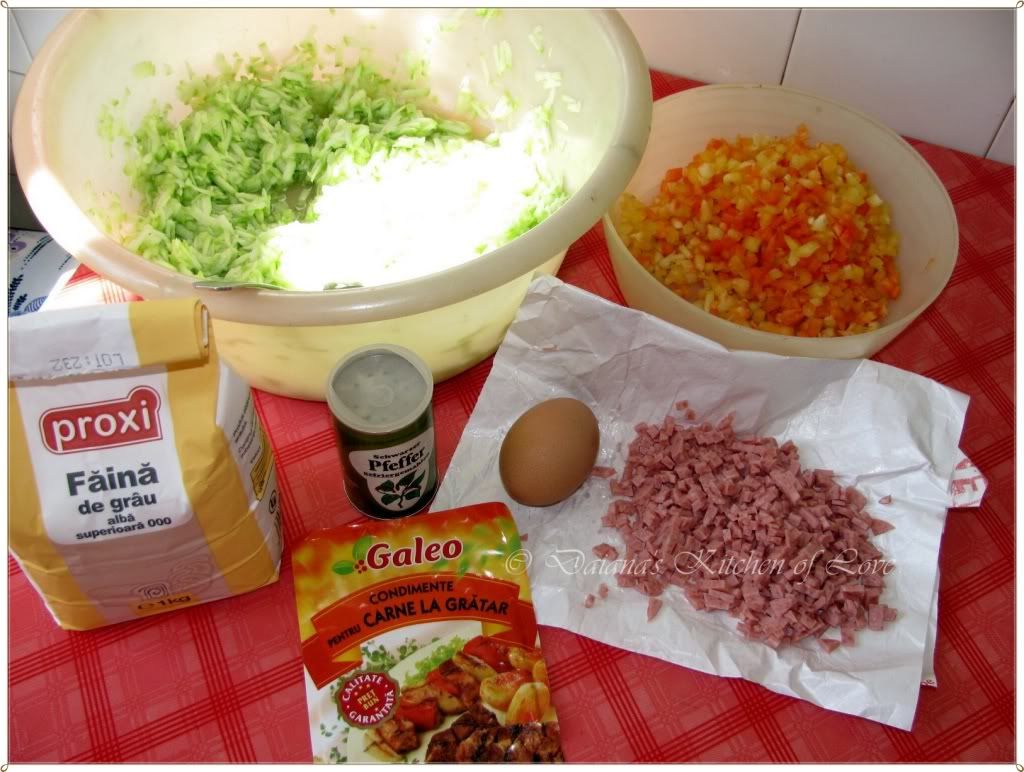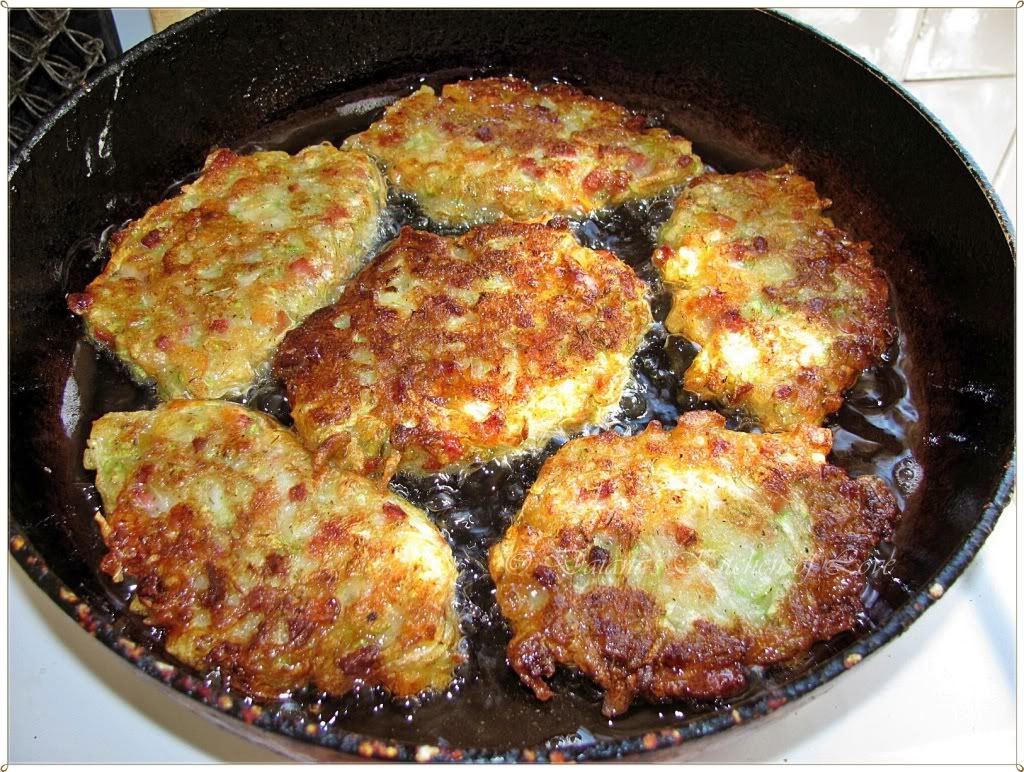 Tuesday, October 11, 2011
Din pacate cu timpul photobucket se pare ca mi-a stricat multe linkuri, asa ca s-au cam pierdut pozele. Sorry!

* aperitiv: cascaval cu rosii ~ Sajtos-paradicsomos előétel ~ Cheese and tomato appetizer

* branza topita la micul dejun sau la cina ~ Reggelire, vacsorára ~ For breakfast or dinner

* supa de conopida ~ Karfiol leves ~ Cauliflower soup
* supa de legume ~ Mindeféle zöldség leves ~ Vegetable soup
(cartofi, fasole verde, rosii, dovlecei, morcovi)

* mancare de dovlecei cu chiftele de soia ~ Tökfőzelék szója fasírttal ~ Squash with soyballs

* ciuperci umplute, la cuptor ~ Töltött gomba, sütöben ~ Ovenbaked, filled mushrooms

* mamaliga cu cascaval si smantana ~ Sajtos, tejfölös puliszka ~ Polenta woth cheese and sourcream

* friptura de porc la kukta, cu pireu si salata turceasca de morcovi cu usturoi si iaurt
~ Kuktában sült disznóhús, krumplipirével és török (fokhagymás, jogurtos) sárgarépa salátával
~ Roast pork with smashed potatoes and turkish carrot salad

* :D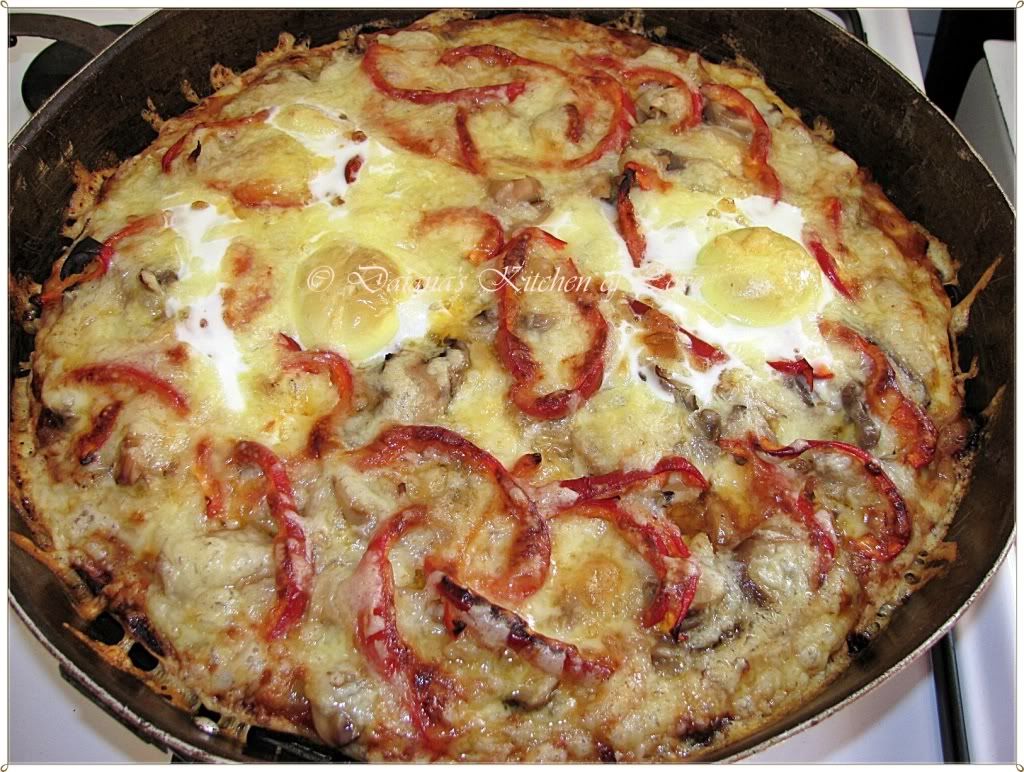 * pesto de busuioc ~ Bazsalikom pesto ~ Basil pesto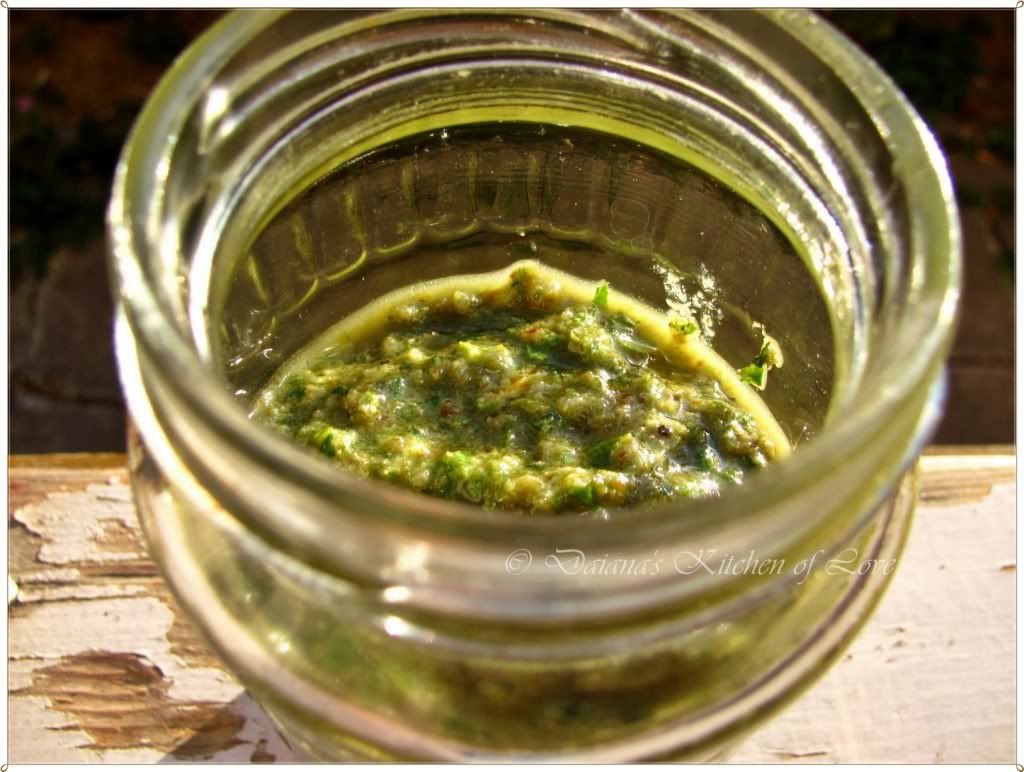 * chiftele de dovlecei cu ardei si salam
~ Paprikás, szalámis tökfasírt ~ Quashballs with bell pepper and salami
* omleta cu ardei si ceapa ~ Paprikás, hagymás rántotta ~ Scrambled eggs with bell pepper and onion
* ardei copti ~ Sült paprika ~ Roasted bell pepper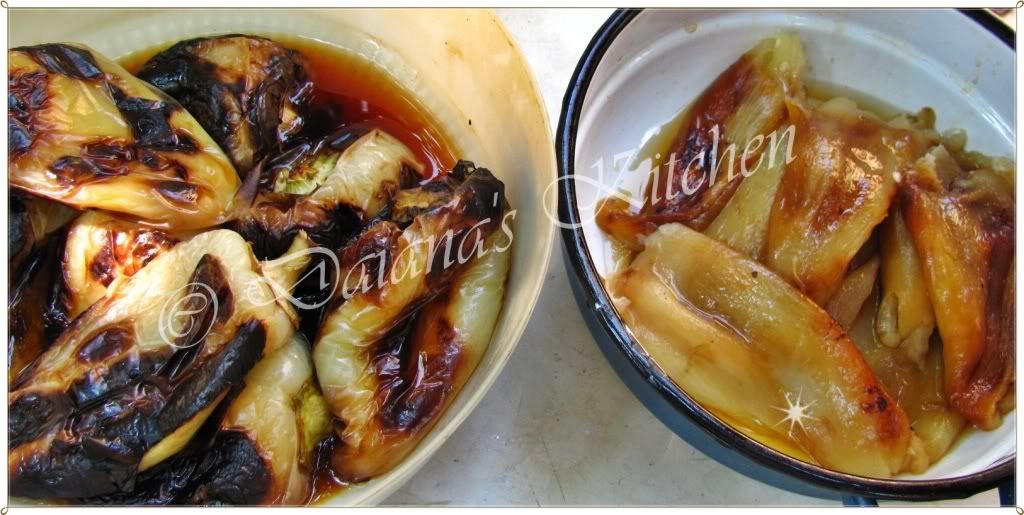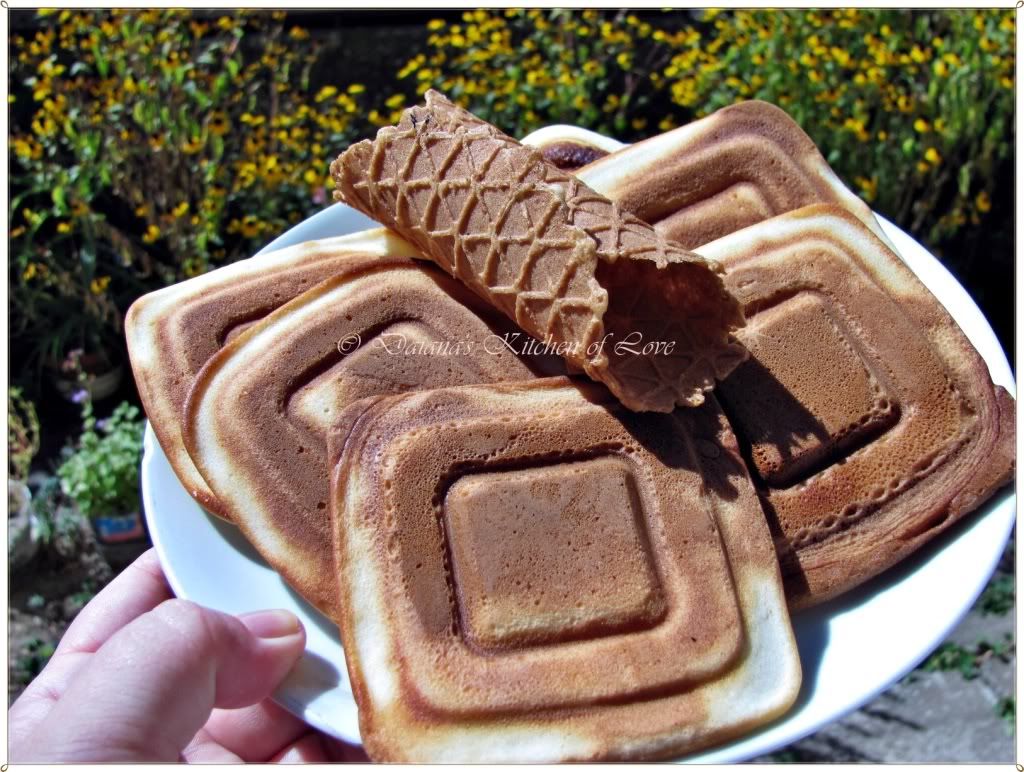 * prajitura cu mere ~ Almáspite ~ Applecake
Labels
aperitiv
(18)
Auchan
(3)
Bauer
(1)
birthday
(7)
branza
(2)
cacao
(13)
canon sx120 is
(1)
ceai
(11)
cheesecake
(1)
cozonac
(4)
desert
(216)
DEX
(1)
diverse
(39)
Electrolux
(1)
fara coacere
(1)
fara lactoza
(1)
fel principal
(144)
fructe
(1)
germeni de cereale
(1)
germinare
(1)
germinare seminte
(1)
giveaway
(23)
glazura oglinda
(1)
gradina
(22)
inghetata
(6)
Kaufland
(18)
mascarpone
(1)
masina de paine
(18)
masina inghetata
(2)
microgreens
(1)
microunde
(5)
Mini blender RUSSELL HOBBS Mix & Go
(1)
Minus L
(1)
mix
(15)
muffins
(19)
muraturi
(2)
paine
(10)
paste
(3)
Penny Market
(1)
pizza
(13)
post
(26)
Powered by Lidl
(67)
prajitura
(1)
salata
(12)
sarat
(39)
sarbatori
(19)
seminte
(1)
seminte BIO
(1)
seminte germinate
(1)
SilverCrest EDS SBB 850 B1
(6)
sirop
(6)
sprouts
(1)
suc
(10)
SunFood
(2)
supa-ciorba
(26)
Univer
(1)
vitamine si minerale
(1)
vlastari
(1)

About Me
Io-s Daiana din Timisoara, o banateanca zapacita. Imi place sa spun ca-s banateanca, nu pt ca as cunoaste tot ce tine de Banat ci pt ca ma simt bine pe aceste meleaguri, unde m-am nascut si am crescut. "Bucatareala" m-a apucat asa mai serios dupa ce in 2008 am vazut filmul Ratatouille. Stiu ca e doar un film animat, dar atat de simpatic mi-a fost sobolanutul Remy, cum stia el sa aprecieze mancarea bine pregatita, a invatat de la tv sa gateasca, faza cu explozia de gusturi cand combini ingredientele si motto-ul lui Gusteau "Anyone can cook!" Indemnata de primele succese si de aprecierile celor din jur, mi-am zis ca pot si io, asa ca am inceput cu prajiturile pt ca mi s-au parut mai prietenoase, mai usor de fotografiat si parca ceva mai simplu de realizat decat mancarurile gatite. Si vorba unui prieten "Sigur iti ies toate daca pui atata suflet". Am creat blogul din dorinta de a aduce la un loc doua dintre pasiunile mele: gatitul si fotografiatul, si pentru ca: "This is my invariable advice to people: Learn how to cook - try new recipes, learn from your mistakes, be fearless, and above all HAVE FUN!" ~ Julia Child, My Life in France
View my complete profile

Copyright
All rights reserved. No part of the contents of this blog may be reproduced in any form or by any means, electronically or otherwise, without the prior written permission of the owner (vdaiana-http://testdaiana1.blogspot.ro/).

Toate drepturile rezervate. Nici o parte din conţinutul acestui blog nu poate fi reprodusă sub nici o formă (electronică sau de altă natură) fără acordul scris al proprietarului (vdaiana-http://testdaiana1.blogspot.ro/). Publicarea sau multiplicarea fara acordul scris al proprietarului se pedepseste conform legii in vigoare (Legea nr. 8/1996 privind dreptul de autor și drepturile conexe).


Blog Archive